Fusion ctrm system integration
At Fendahl, we understand the importance of seamless connectivity and interoperability in today's rapidly evolving digital landscape. Our CTRM software is designed to effortlessly integrate with a wide range of industry-leading tools and platforms, including SAP, Microsoft Dynamics NAV, and more. By prioritizing compatibility and offering customizable integration options, we empower our clients to optimize their existing technology investments, streamline their workflows, and enhance their overall trading and risk management capabilities. Discover the benefits of Fendahl's fully integrated CTRM solution and unlock the potential of your business today.
FUSION CTRM IS BASED ON A SERVICE ORIENTED ARCHITECTURE (SOA)
Fusion CTRM, our cutting-edge software solution, is built on a Service Oriented Architecture (SOA), ensuring seamless integration with third-party systems through Fusion's versatile integration adapter. This out-of-the-box adapter supports both SOAP and REST-based web services, enabling smooth communication with other systems like ERP solutions.
Our integration capabilities include both push and pull API call functions, allowing for the efficient exchange of critical data between the CTRM/ETRM system and third-party platforms. The integration process may involve sending data to external systems, as well as receiving it, depending on the final integration design and data mappings.
To facilitate the integration of Fusion CTRM with third-party systems, we offer the flexibility to utilize either industry-standard middleware tools or custom coding, depending on your specific needs. Our robust integration architecture, detailed in this document, guarantees a reliable and seamless connection between platforms.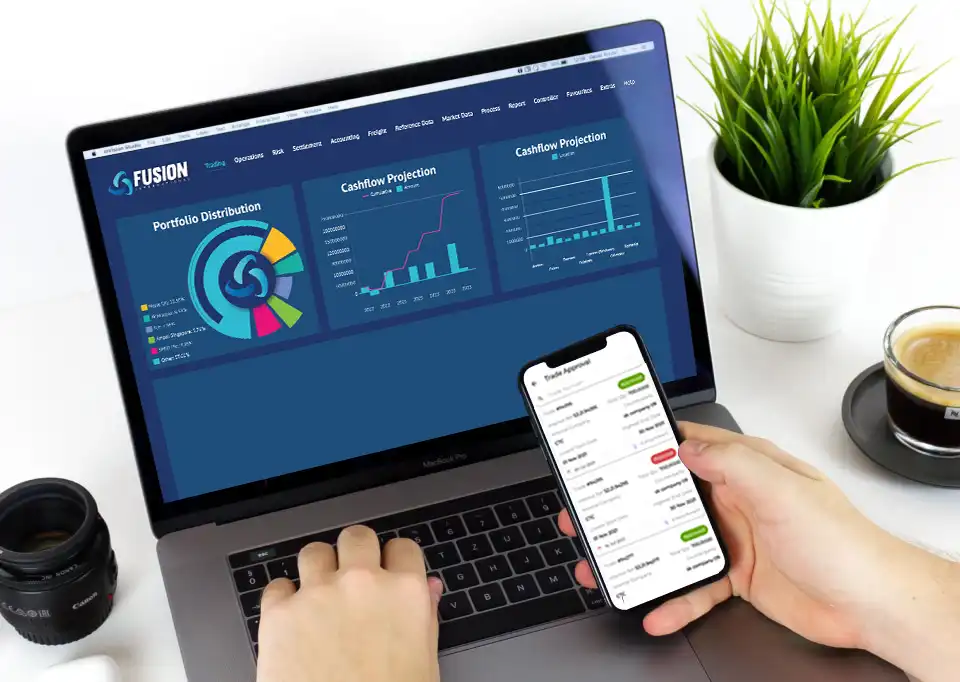 Fusion is a next generation CTRM system that delivers greater levels of scalability, reliability and performance at a lower total cost of ownership when compared to legacy CTRM systems.
Fusion's modern architecture means that it can be easily and more affordably integrated with third party solutions such as ERP or accounting systems.
Fusion is built using the latest Microsoft technologies stack.

Fusion's integration adaptor delivers a best in class web service-based adaptor which makes integration with both SOAP and REST straightforward and cost effective.

Fusion has a uniform technology stack across all layers (all Microsoft Based). There means there are no cross technology issues and technology version dependencies.

Designed for performance Fusion is a lightweight system that uses multithreading and background processing to significantly improve the performance and scalability of the solution.

Fusion is Cloud ready and can be deployed in the cloud, as a hosted solution or in house.

Fusion offers one-click deployment and automated version updates.

Built entirely in-house Fusion has been developed 100% by Fendahl and contains no third party dependencies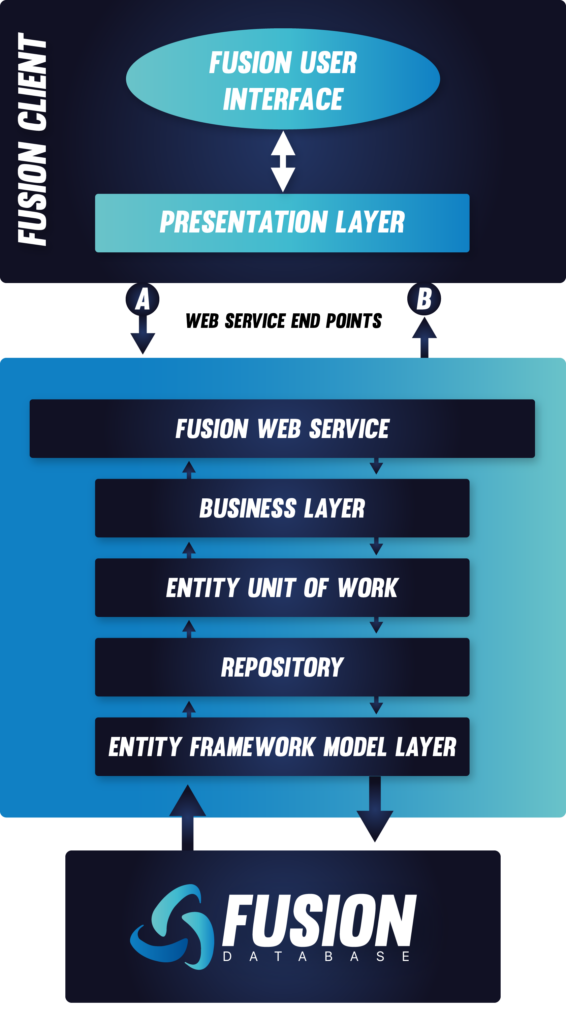 INTEGRATION WITH MS NAV DYNAMICS
Fusion is a CTRM (Commodity Trading and Risk Management) system used by trading organisations to manage trade and risk management business processes. 
Fendahl has pre-built Fusion CTRM adapters for MS Dynamics NAV, developed in partnership with Fendahl's European Microsoft partner. An integrated Fusion CTRM and MS Dynamics NAV solution delivers number of benefits to trading businesses: 

Pre-integration – Fendahl is pre-integrated with MS NAV using the productised Fusion CTRM to MS NAV Integration Framework solution. This delivers tight integration and rapid deployment at a low cost.
Standard Reports – A wide range of standard reports can be produced by either Fusion or MS NAV
Unified Custom Reporting Environment – business users can produce reports on data held in Fusion CTRM and in MS NAV in a single unified reporting environment. This means custom reports can be produced by Fusion's Executive Reporter that contain data from both Fusion CTRM and MS NAV.
Low Cost – MS NAV offers a powerful industry leading financial accounting environment that integrates seamlessly with Fendahl Fusion CTRM with a low cost of ownership.
Fusion & SAP® S/4HANA: A Partnership Defined by Innovation and Seamless Integration
Harness the power of Fendahl's Fusion CTRM Software, a next-generation CTRM system that not only outperforms legacy CTRM systems in scalability, reliability, and performance but also promises a lower total cost of ownership. Now, with SAP certification, Fusion presents an integrated solution with SAP S/4HANA, ensuring seamless operations, reduced implementation risks, and a diminished IT overhead.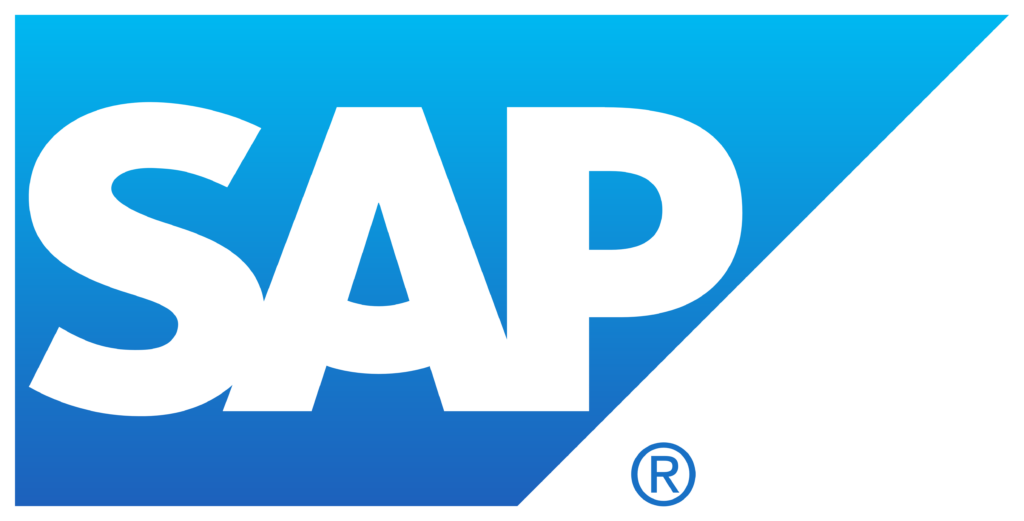 Certified Integration: Recognized by the SAP® Integration and Certification Center (SAP ICC), Fusion CTRM has proven compatibility with SAP S/4HANA using standard integration technologies.
Efficient Reporting: Streamline the generation of month-end accounts and eliminate IT complications during the reporting period.
Risk Mitigation: The certified integration ensures a risk-free implementation process, guaranteeing the smooth operation of Fusion CTRM with SAP S/4HANA.
Decreased IT Overhead: Move beyond bespoke, non-standard integration. The certified connection reduces the IT efforts required for maintenance and support.