Fusion for Agricultural Commodities
Fendahl Technology provides a new generation of commodity trading and risk management (CTRM) software for agricultural commodities trading.
The Fusion CTRM solution supports the complex requirements of agricultural commodity trading in a modern and flexible modular package.
Fusion agriculture commodity trading and risk management software makes end users lives easier by setting new standards for; ease of use, flexibility, system performance, scalability, and reliability. Fusion is a modern CTRM solution that delivers rich functionality and a low cost of ownership, with a range of deployment options.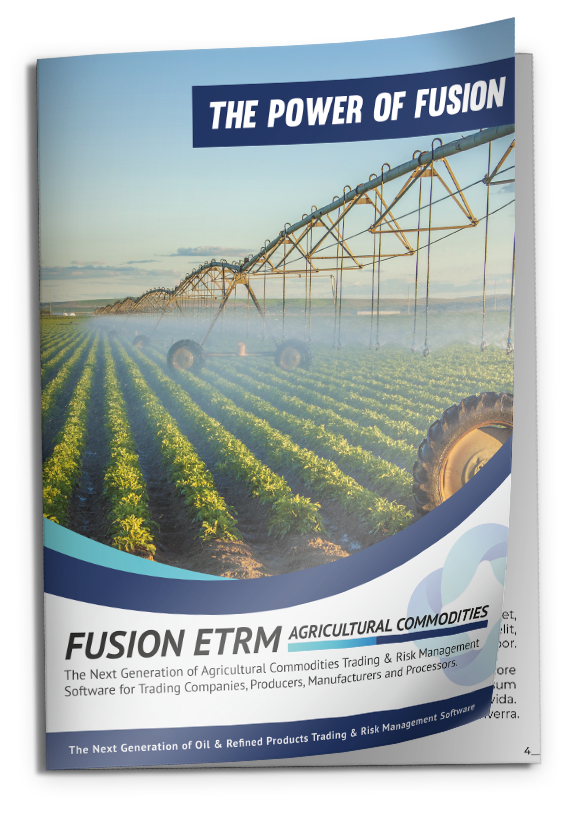 Why fusion ctrm is beneficial
for the agriculture industry
Fendahl Fusions CTRM (Commodity Trading and Risk Management) is a software solution that helps agricultural businesses / organisations manage their commodity trading and associated risks. Here are some reasons why using Fusion CTRM software solution can be beneficial for the agriculture industry:
Streamlined Operations: Fusion CTRM provides a centralised platform for managing all aspects of commodity trading, including procurement, logistics, pricing, and invoicing. This can help streamline operations and reduce manual errors, which can lead to improved efficiency and cost savings.


Improved Risk Management: Agriculture businesses are subject to many risks, including market volatility, weather conditions, and supply chain disruptions. Fendahl's Fusion CTRM can help businesses manage these risks by providing real-time data and analytics to make informed decisions, as well as tools for hedging and risk mitigation.


Enhanced Supply Chain Visibility: Fusion CTRM software solution can provide real-time visibility into the entire supply chain, from production to delivery. This can help businesses better understand their inventory levels, track shipments, and anticipate supply chain disruptions.


Increased Profitability: By improving operations and risk management, CTRM can help businesses increase profitability. By making informed decisions based on real-time data and analytics, businesses can better manage costs and optimise pricing strategies to maximise profits.
Overall, using Fendahl's CTRM software solution will be a valuable tool for your agricultural business because it will help to streamline your operations, manage risk and increase profitability. Use the brochure below to find out more on how CTRM software can help your agricultural business and we will make sure one of our team reaches out to you. Read about success we have had with Partners Network here.
Agriculture Asset classes
Download our brochure here